Nobody can dispute guinea pigs' attractiveness as small pets with their fluffy little bodies, chirping sounds, and cuddling temperament. Focusing on their adorable traits is a terrific way to find adorable name inspiration for a new guinea pig.
Because guinea pigs are unique, their names should be memorable and reflect their characteristics. Although domestic cavies initially appear to be similar, they all have particular fur types, colourings, and, of course, temperaments.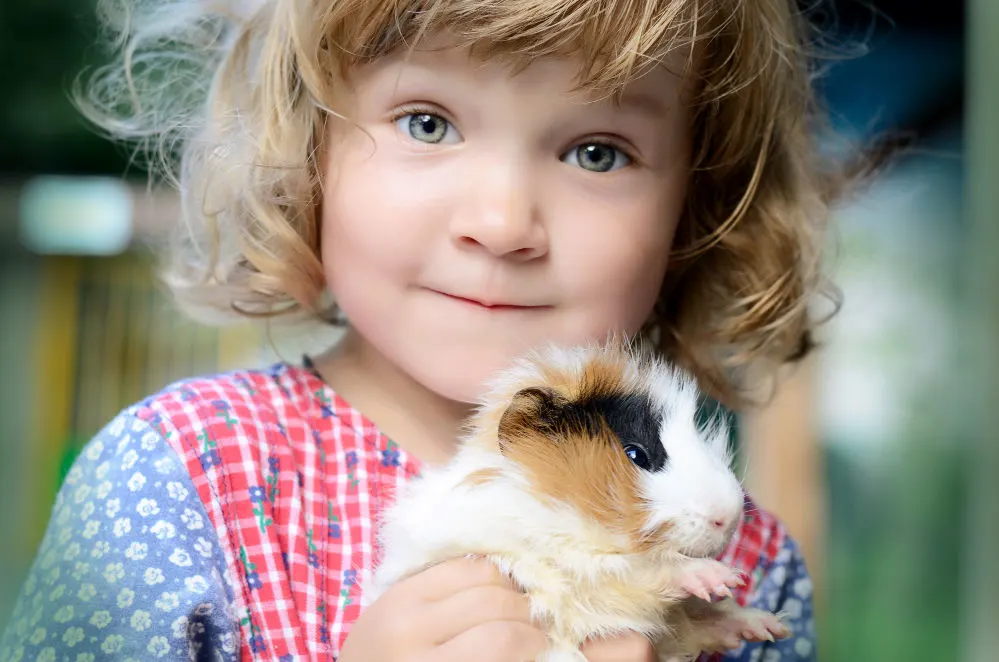 This list of guinea pig names will provide you with many cute names. We have great names that will make your tiny cavy girls stand out from the crowd and go well with her personality or coat color.
She might even be mistaken for the pet of a famous person, so here are our recommendations for the best female guinea pig names for new guinea pig owners.
Piggy name criteria
Here are some things to think about before you begin naming your guinea pig:
Do you want a name that matches their fur color?
Do you want a name that describes their breed or hair type?
Should you choose a cute, unusual, or funny guinea pig name?
Do you have favorite Disney movies or characters?
Do you want a highly conventional human name or something unique?
Names for female cavies
Finding the ideal name that completely describes your pig is not easy because of their adorable dispositions, unique appearance, and the fact their fur comes in a kaleidoscope of colors.
With so many options, having a female guinea pig name that precisely encapsulates your new furry friend's personality simply makes sense. So let's begin with some cavy name ideas.
Names for female piggies
Sows are the official term for female guinea pigs. They are initially shy and reserved but later let their inner selves shine through. One of these adorable names might be the perfect fit for your sweet cavy.
Alani
Ana
Arabelle
Betty Boop
Bubbles
Cleo
Daphne
Elle
Evie
Fifi
Fiona
Giselle
Jojo
Kira
Luna
Pandora
Raine
Sage
Savannah
Sophie
Squeaks
Stormy
Teagan
Tilly
Tiny
Twinkletoes
Names for girly BFFs
A pair of girl guinea pigs can make the perfect match. Sows that are not sisters can be adopted and get along just fine. Up to a few ladies are frequently adopted together to promote socialization and combat loneliness, as guinea pigs are ultimately social animals.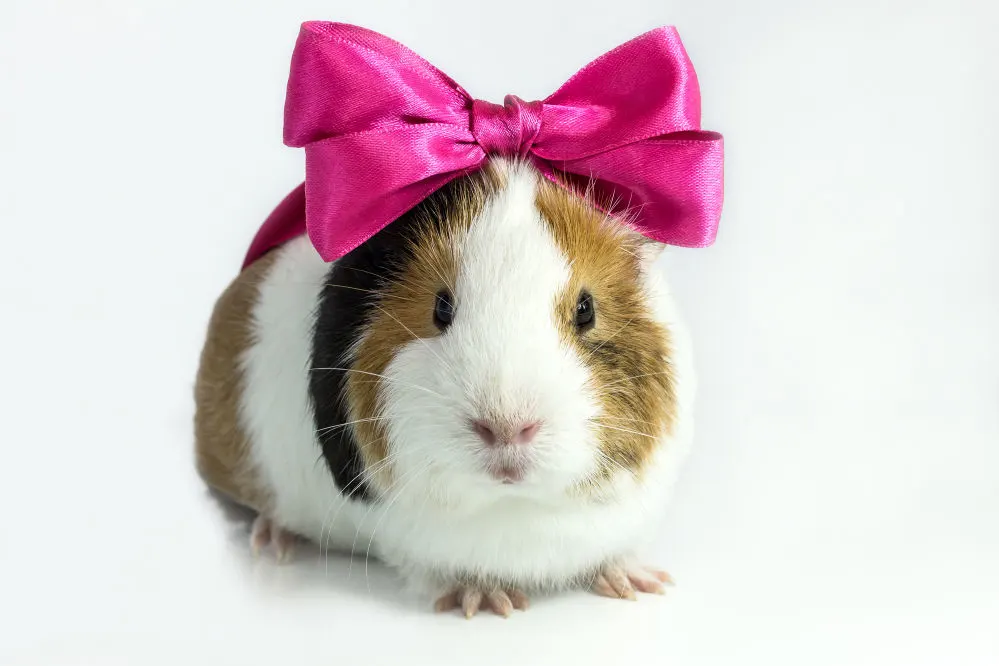 Here is a list of the best matching names for a pair of guinea pig girls, some of which have been inspired by our favorite TV shows! Remember to give your girls a cage with enough space for them to thrive in.
Ava and Evie
Clementine and Tangerine
Luna and Sol
Sugar and Spice (for the pairs with opposite personalities)
Rosemary and Sage
Romy and Michelle (a classic girl pair)
Ruby and Sapphire
Cagney and Lacey (for your little detective girls)
Chips and Salsa
Chocolate and Chip
Monica and Rachel (Friends)
Ginger and Snap
Cookies and Cream
Thelma and Louise
Lemon and Lime
Yin and Yang
Bow and Arrow
Betty and Wilma (The Flintstones)
Cher and Dionne (Clueless)
Mary Kate and Ashley
Tia and Tamera
Velma and Roxy (Chicago)
Dolce and Gabbana (for only the most fashionable girls)
Names inspired by the breed
Thirteen distinct breeds, each with distinctive physical characteristics and personality, are recognized by the American Cavy Breeders Association (ACBA). Consider giving your adorable guinea pig a cute name that pays homage to their breed.
Unique names for your cavy
Here are some unusual names if you want an equally distinctive name for your new friend.
Critter
Frisky
Hopper
Oinker
Scamper
Twitter
Wheeler
Zippy
Zoomie
Black guinea pig names
Due to their thick coats and ability to absorb heat, black guinea pigs thrive in chilly regions and are known to hide from the sun. These good names pay homage to their appearance.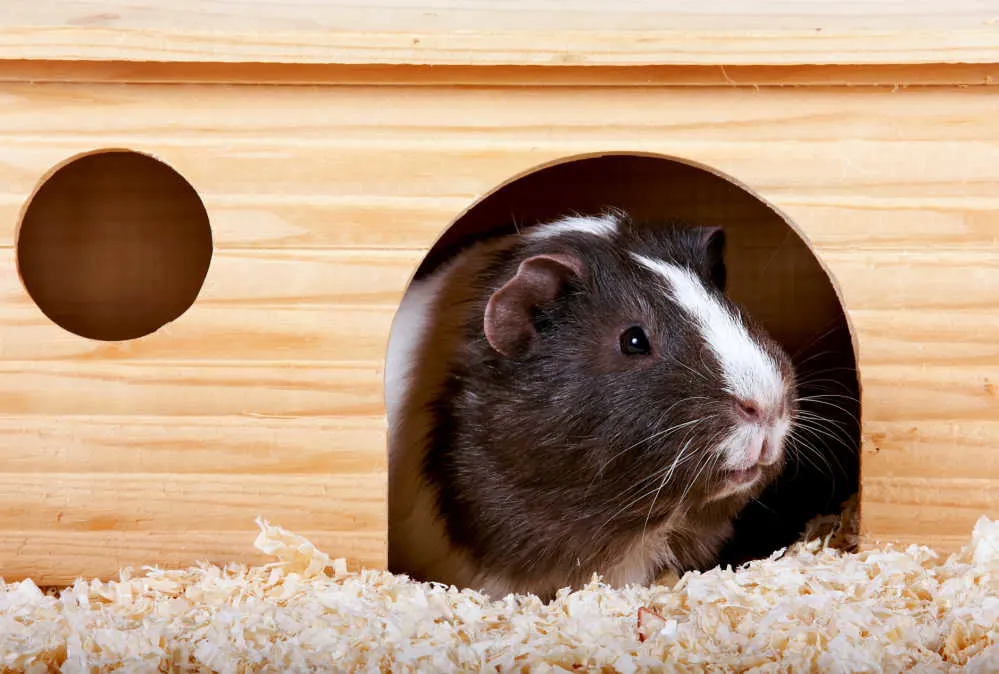 Beans
Blackberry
Blackie
Charcoal
Chip
Delaney
Dreamy
Ebony
Indigo
Inky
Jet
Magic
Midnight
Moon
Morticia
Noir
Pepper
Pitch
Raven
Shadow
Spooky
Star
Trixie
Names for white guinea pigs
These beautiful names pay homage to your guinea pig's lovely white coat, whether you have a Himalayan guinea pig or a Lunk with an overflowing mane.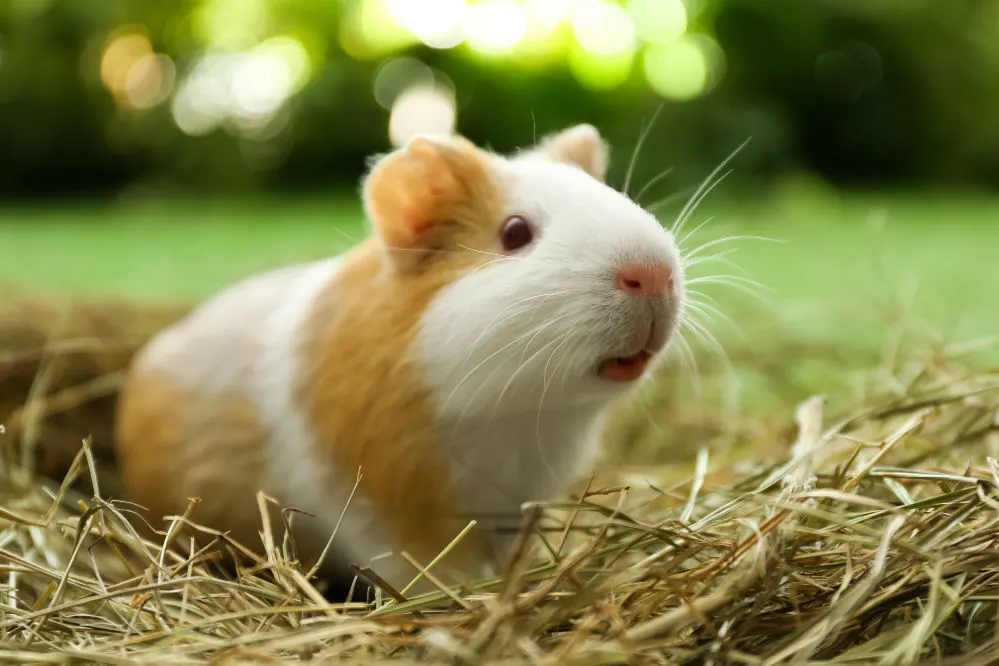 Alaska
Angel
Chilly
Cream
Crush
Dewdrop
Dovey
Frosty
Ghost
Icy
Ivory
Lumi
Meringue
Milkshake
Noelle
Rice
Slushie
Snowshoe
Spirit
Sugar
Vail
Black and white guinea pig names
These lovely names are ideal for black and white piggies.
Checkers
Cow
Dice
Domino
Dot
Marble
Patches
Smudge
Spot
Blonde piggy names
These unique guinea pig names are adorable for a blonde guinea pig.
Apricot
Blondie
Caramel
Copper
Croissant
Goldie
Honey
Latte
Pancake
Sandy
Names for brown guinea pigs
Brown is a distinctive color that deserves to be acknowledged in the cavy society, where there is an infinite variety of coloring. Consider making your guinea pig's name one of these fun options.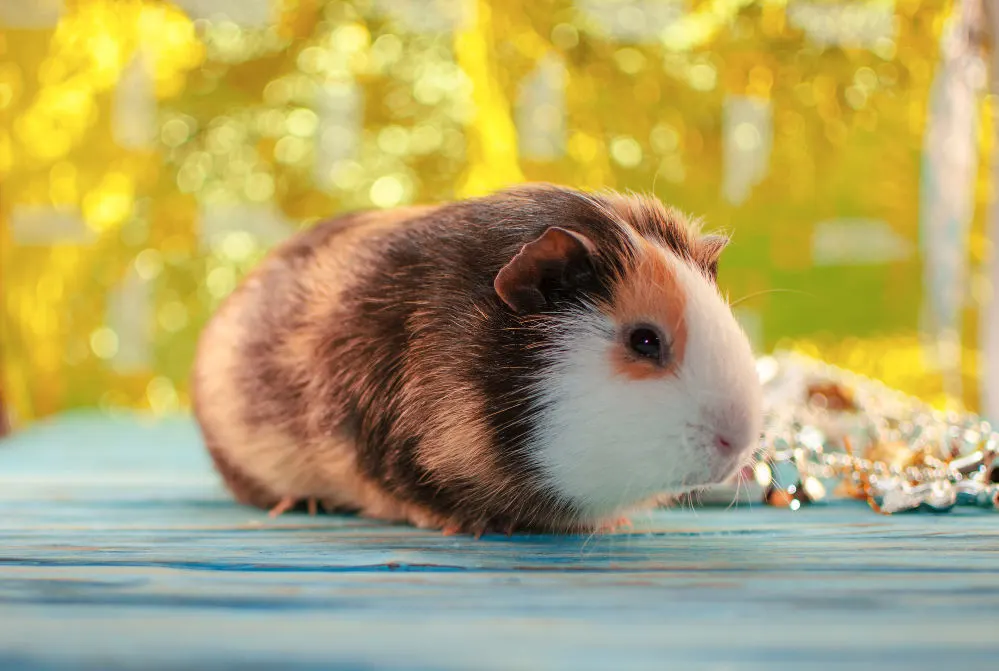 Almond
Brownie
Butterfinger
Chestnut
Chocolate
Coffee
Cinnamon
Coco
Fudge
Hazel
Nutmeg
Maple
Mocha
Peanut
Pecan
Penny
Taters
Tiramisu
Tootsie Roll
Names for the ginger girlies
The red and ginger hues of your beloved pet's coats can be subtle or overpowering. We've included names that will accompany your gorgeous guinea pig's fiery coat.
Looking closely, you could spot a few names that prominent redheads share. Redheads are unique regardless of their species, after all.
Amelia
Annie (because the sun will come out tomorrow)
Autumn
Blush
Cayenne (for the spicy girlies)
Ginger
Ginny
Leaf
Lucy
Paprika
Raspberry
Red Velvet
Strawberry (cavies also love eating strawberries, just so you know)
Sunny
Christmas-inspired names
You'll feel festive all year long if your name choice for your guinea pig reflects the happiest season!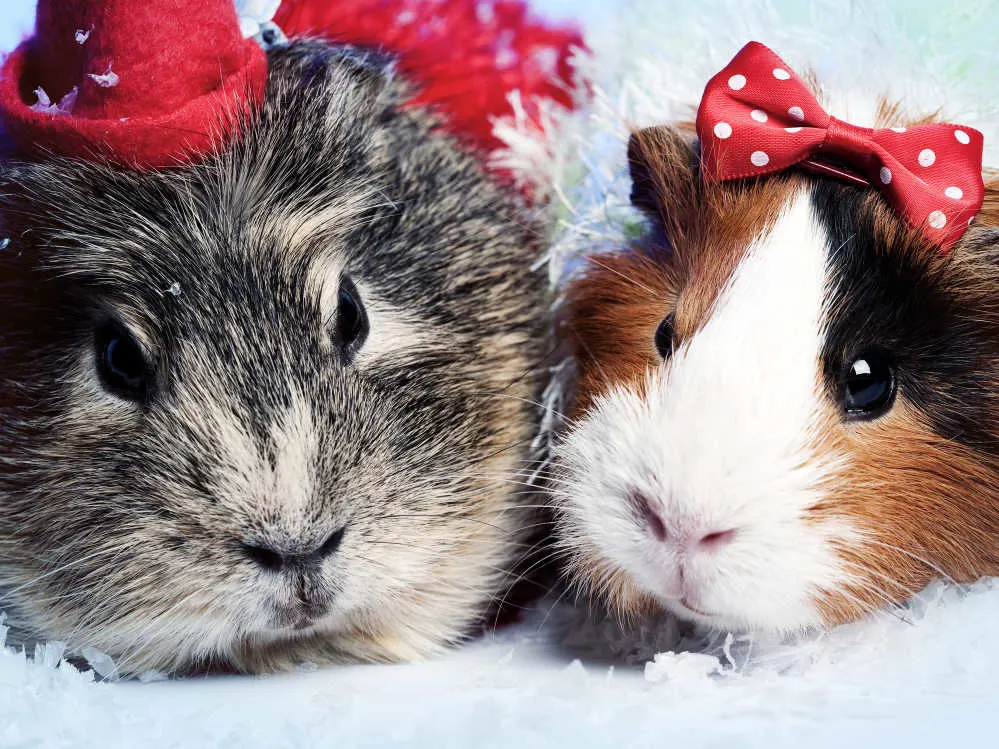 Belle
Candy Cane
Carol
Christy
Comet
Dancer
Eggnog
Elf
Gloria
Hosanna
Mistletoe
Pinecone
Pudding
Tinsel
Halloween-inspired names
Does your guinea pig have a creepy feel to her, or maybe you're just a fan of the holiday? These might be perfect for a name with a Halloween theme.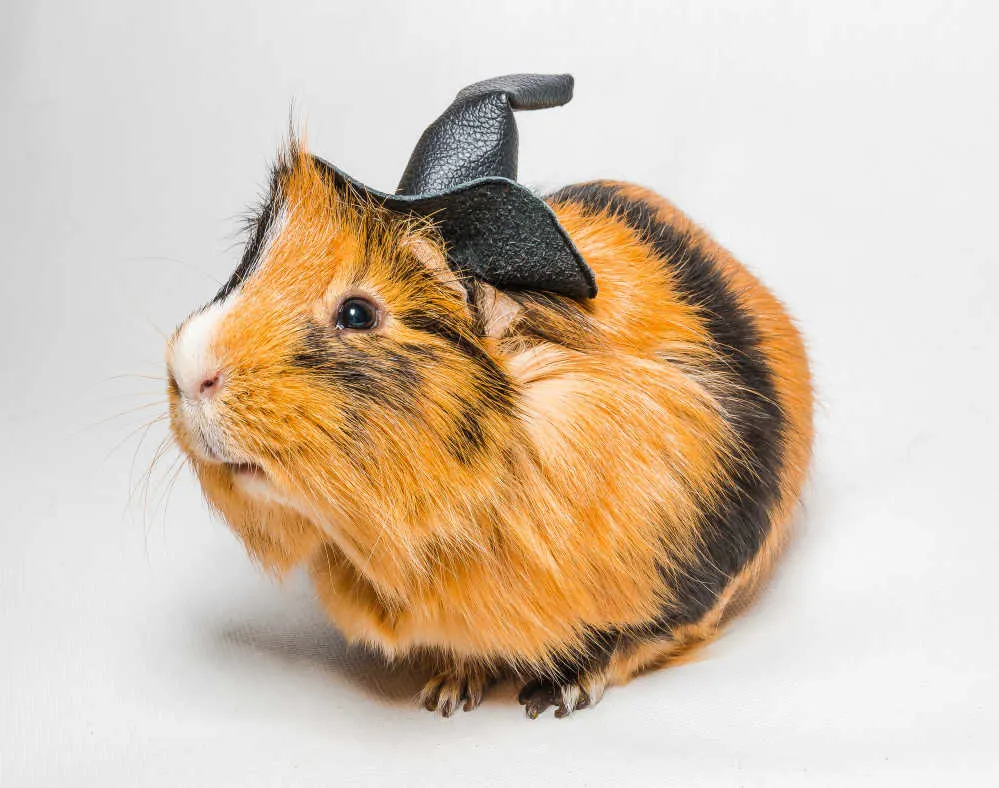 Bones
Buffy
Charm
Gremlin
Haunter
Hex
Malison
Morrighan
October
Paige
Pocus
Sabrina
Tarot
Vamp
Disney names for your cavies
These guinea pig names were inspired by Disney films for the franchise lovers out there and are perfect for cute pets.
Ariel
Aurora
Bambi
Belle
Boo
Dory
Elsa
Lady
Lilo
Maleficent
Minnie
Moana
Nala
Snow White
Tiana
Tinkerbell
Thumper
Ursula
Flowery names for your cavy
Your adorable guinea pigs will undoubtedly be lovely. And these attractive girls can suit floral names highlighting their delicate and charming personalities.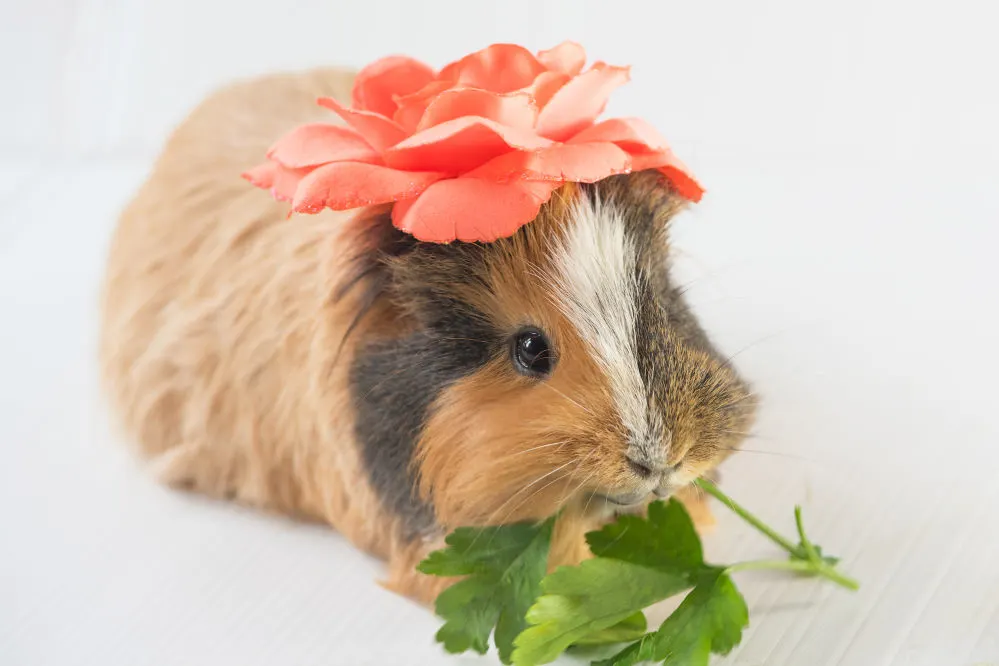 Not to mention that your guinea's ears may resemble flower petals if you pay close attention. See the list of botanical names below for suggestions of pretty female names.
Buttercup
Chrysanthemum (Chrissy for short)
Clover
Daffodil
Dahlia
Daisy
Iris
Ivy
Jasmine
Lavender
Lilac
Lily
Mossy
Orchid
Petunia
Poppy
Rosebud
Sunflower
Tulip
Willow
Names for the softest of fur babies
Several languages use these names to describe softness. Any adjectives that refer to softness to the touch or a soft personality are suitable to describe a guinea pig's gentle disposition and silky fur.
Aalya – Arabic, "soft and calm."
Aderyn – German, "soft bird."
Anana – African, "soft or gentle."
Delanna – Italian, "soft like wool."
Julia or Juliana – Spanish, "soft hair."
Juliette – French, "soft hair."
Kiana – Hindu, "soft"
Lamis or Lamisa – Arabic, "soft"
Malva – Greek, "soft."
Megan – Gaelic, "soft or gentle."
Satin
Silky
Velouette – English, "soft."
Velour
Velvet
Foodie names
Naming guinea pigs after sugary foods is another method to convey their sweetness. Saccharine meals can undoubtedly make you think of a guinea pig, whether it's a fruity flavor or a mouthful of sticky candy.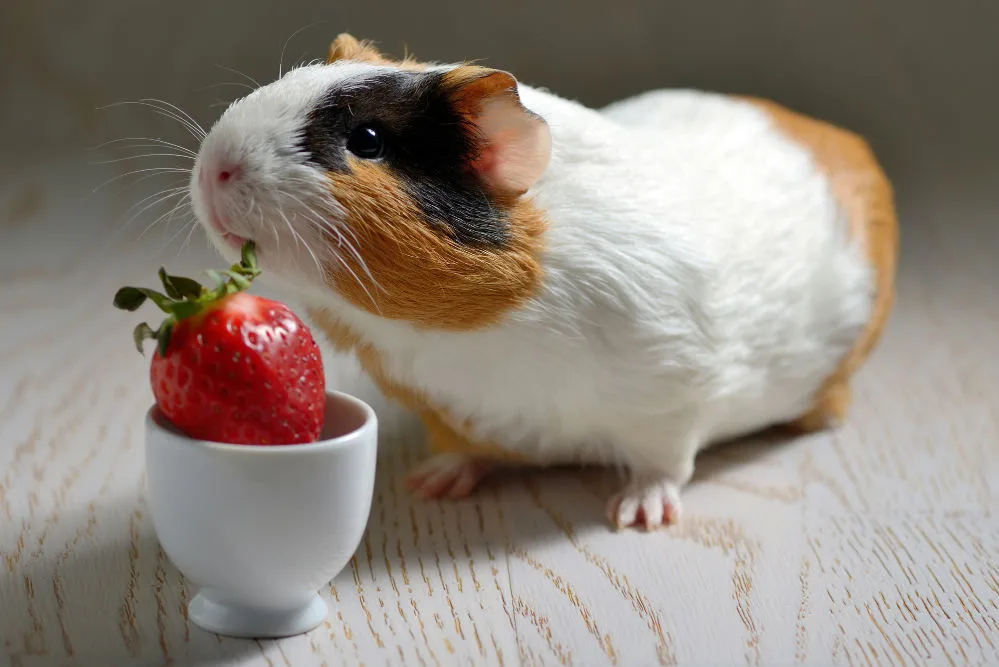 Apple (eating apples is also good for your cavy)
Anise
Banana (this is a good fruit to add to their diets)
Berry
Biscuit
Candy
Cherry
Clementine
Cookie
Cupcake
Fig
Galette
Gum Drop
Huckleberry
Jelly Bean
Licorice
Mango
Marshmallow
Peaches
Pear
Plum
Snickers
Sundae
Piggy-inspired names
Guinea pigs aren't technically related to swine, and they're not even from Guinea. Find out how giving your little friend a funny name with a pig theme can be fun.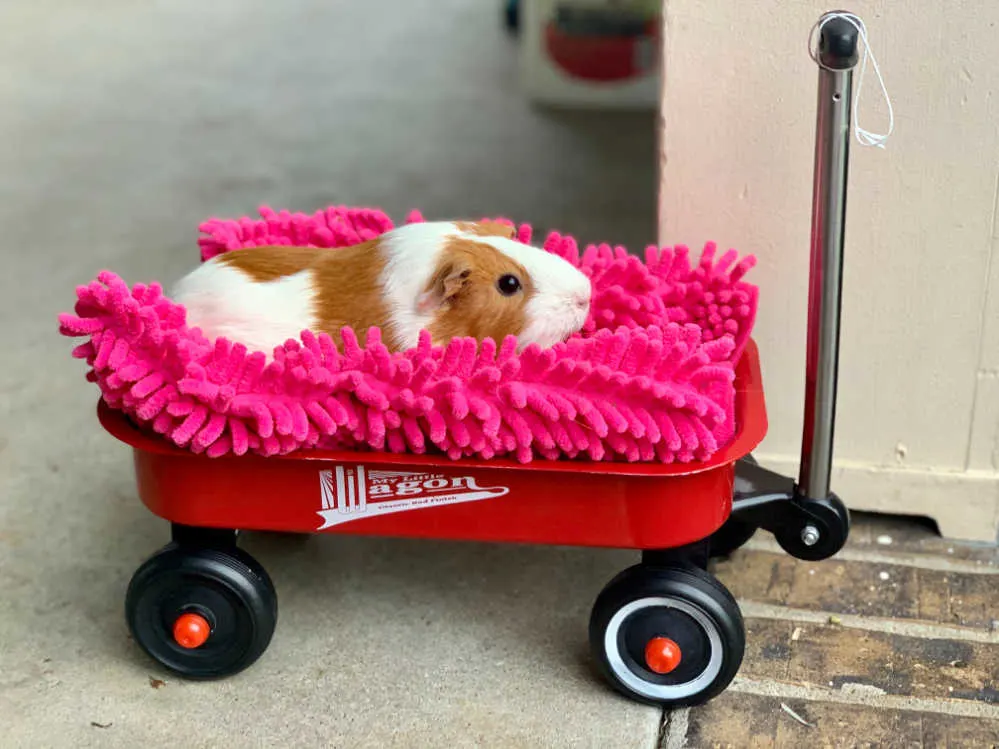 Babe
Bacon
Bacon Bit
Chomper
Miss Piggy
Nibbles
Peppa
Piggy
Piggy Sue
Piglet
Pork Chop
Porky
Spam
Gemstone names
Guinea pigs are an absolute gem of a pet, and these sparkling names will fit their glittering personalities to a "T".
Amethyst
Diamond
Emerald
Garnet
Jade
Jewel
Onyxia
Opal
Pearl
Ruby
Sapphire
Scarlett
Let your piggy decide
Still haven't found the right name? In addition to the goofy memories it creates, your new pet participating in this process will be an adorable bonding moment between you and your furry friend. There are a few methods a guinea pig can use to "assist" in naming anything.
Have a few friends sit in a circle, name each person, and put the guinea pig in the center if you have an extroverted pig. The name of the first person the guinea pig goes to will be their name.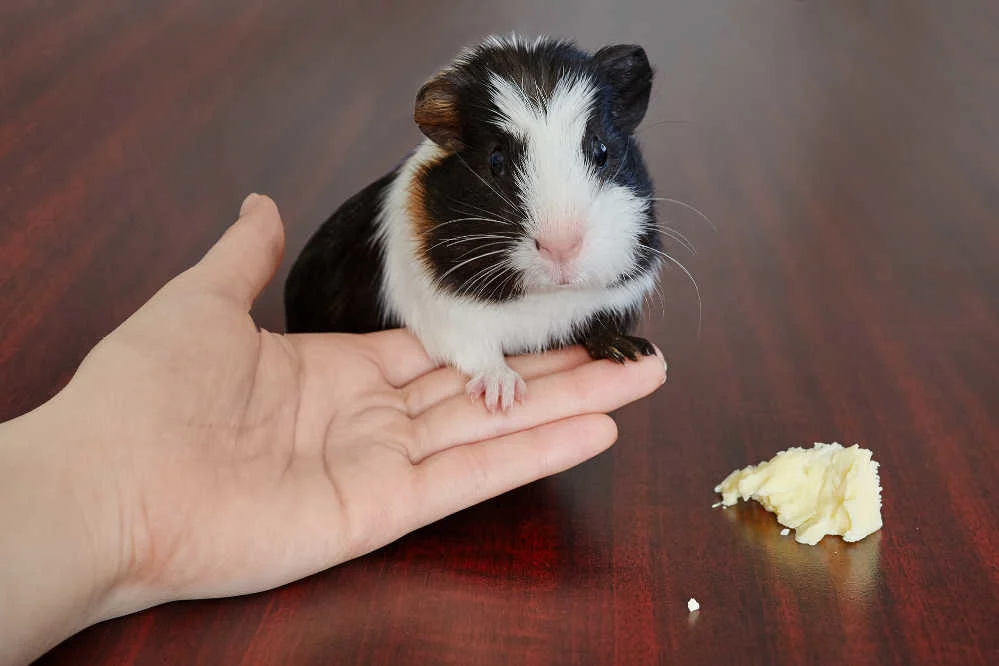 If you have a shy piggy, don't worry. There are many more ways they can help you decide. Write several names on a few index cards and scatter them around the room with some guinea pig food. The name is determined by whatever card the guinea pig nibbles off first.
Have fun with it, however, you decide to determine your guinea pig's new name.
Final thoughts on naming your female guinea pig
The fact that guinea pigs can genuinely remember their names may surprise you. Give your piggy her favorite foods, such as lettuce or carrots, when she comes running to you after you call her name.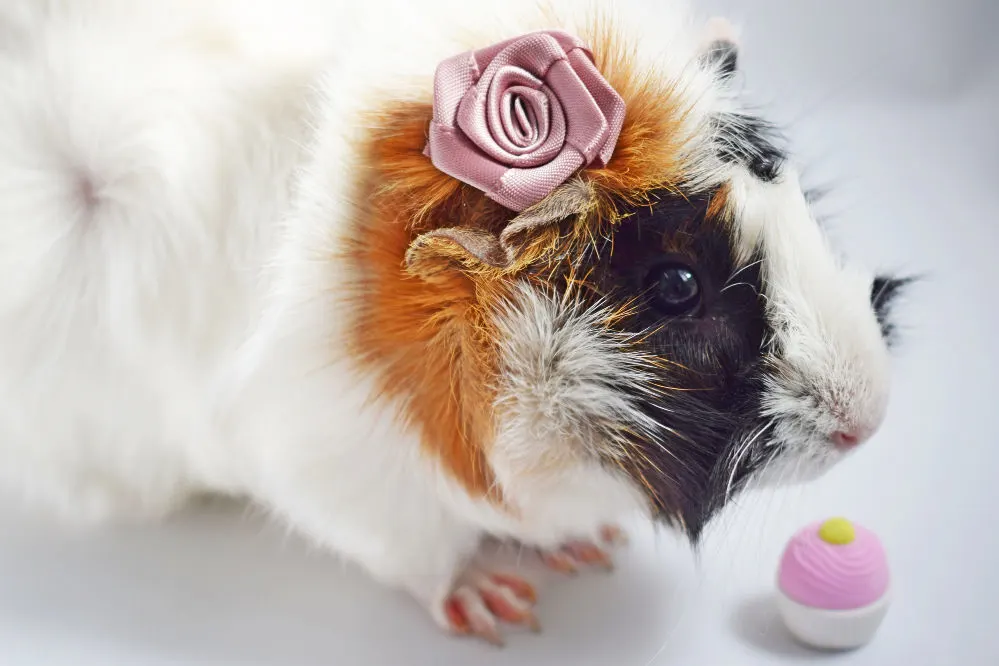 You'll need to practice this often, typically over a few weeks. Try to do this at roughly the same time each day and in the exact location, such as when she's in her cage.
Even if they are a little shy, some guinea pigs will take longer to learn, but they will eventually make the connection.
With the help of this list, you'll be able to pick the perfect name for your new baby guinea pig, and hopefully, with a little practice, she'll be able to recognize it as well.
Steph Dyson is a travel journalist by trade but a lover of all small pets. She's been a pet mum to everything from gerbils to guinea pigs, rabbits to hamsters, and fish to dogs of all shapes and sizes. She wants to share her years of experience with small pets and make Small Pet Guides the go-to website for pet owners seeking information and care advice.
Fact checked by: