Before having your first guinea pig, there are some care instructions to learn. Firstly, when it comes to the best guinea pig cages, the rule is straightforward: the bigger, the better.
The necessity for proper cage size is at the top of the list of essentials that piggy parents have become much more aware of as cavy care has improved.
Today, guinea pig owners select cavy castles that enable their cherished pets to show off their hilarious personalities and maintain a healthy body and mind.
To learn how to choose the ideal cage for your pig, take a look at this guide to the best cages for guinea pigs to give you all the information you need to make the best choice for your fluffy friend.
Tip: Learn more about your fluffy friend by reading this post on the difference between guinea pigs and hamsters.
The best guinea pig cages
The ideal guinea pig cage layout should meet your fluffy friend's needs. It should include space, shelter, food, and water, the proper temperature and humidity, and room and comfort. So, let's learn about your guinea pig's requirements and our top picks for setting up your new piggy palace.
1. Midwest homes for pets guinea habitat
Your guinea pigs can live in a safe environment with the Midwest Guinea Pig Home inexpensive guinea pig cage. With the addition of a dividing panel, you can even alter the design.
No tools are needed to put together this top-rated guinea pig cage, which has nearly eight square feet (0.7 square meters) area, which is even more than the recommended 7.5 square feet to comfortably house two guinea pigs. The adaptable wire mesh top folds and is removable, giving you security when you need it and clear access when you do not. You may easily change water and food through two side openings.
You can use these habitats indoors or outside. The PVC canvas bottom is lined and is made to be leak-proof, washable, and simple to remove. Additionally, it offers traction, keeping your guinea pig's delicate feet safe.
In the Plus version, there is a partition with a ramp-style door. Separating the areas used for sleeping and playing keeps the cage cleaner.
The Midwest Homes for Pets Guinea Habitat is lightweight and reasonably priced for the amount of space it offers compared to comparable cages. This is an excellent option if you want to let your guinea pigs play and run around.
2. Petsfit wooden guinea pig cage
The PETSFIT Guinea Pig Cage is ideal for housing several small pets. This robust guinea pig cage features a refuge where your little furry friend can take a nap and a ramp that makes it simple for them to enter and exit the cage.
The Petsfit is the perfect cage for hiding shy guinea pigs who wish to have a private space. One of the most important things with these cages is that your guinea pig will feel safe in a smaller, more enclosed area and enjoy a modest enclosure while napping.
It has enough space for two guinea pigs to live together and comes in two colors: a light gray variant or red. A pull-out tray with a no-leak design is included in the bottom half, making cleaning a breeze.
It is constructed of thicker Finnish spruce panels than what you typically find in conventional guinea pig cages. This makes it a durable and long-lasting solution. There is no weight restriction for this guinea pig cage, and you can adjust the wooden side door to open and close, letting your pets explore other parts of your house when you permit them.
The design gives it a more sophisticated appearance that can easily fit into your indoor décor, making it more aesthetically pleasing than traditional wire cages and the right cage for matching your home. Please be aware, nevertheless, that there is a space of about one inch (2.5 cm) between the side panel iron nets, which might not be appropriate for little guinea pigs like Ridgebacks. Make sure your guinea pig isn't small enough to fit between the wires before completely trusting this cage.
3. Cavie Guinea Pig Cage
When it comes to keeping a single guinea pig, the Cavie Guinea Pig Cage is the ideal choice for a beginner home. Although the cage is modest, there is ample room for your pet to move around.
This little animal cage has a wide foundation and all the necessary extras to give your guinea pig everything it requires.
It even has a food dish, water bottle, and piggy hideout for your fluffball to enjoy their alone time away from the bright lights of your living room. With a hay feeder and an elevated eating platform, your cavy will feel incredibly comfortable and clean munching on some Timothy hay.
The cage has front and side doors to make cleaning super easy. There is also enough space in the six-inch base (15 cm) for some good-quality bedding.
4. KINGBO three-tier cage
The KINGBO cage is a multi-level cage with a lot of room for simple access and cleaning. This cage is a fantastic option for little animals since it's a spacious cage that gives them plenty of room to climb and explore. Your guinea pig will have an ample play area thanks to its wide shelves.
Furthermore, because guinea pigs are highly social creatures, the cage's size enables a couple of them to live together in harmony.
In addition to providing a roomy living space perfect for guinea pigs, the KINGBO three-tier wire cage also has removable pads that help keep food, water, and pet waste from spilling onto the floor. The environment is three stories tall, and ramps connect each section.
This cage has a gray finish that goes with any home design and is made with a robust and square tube frame, while the removable wheels allow it to be moved between rooms if needed.
Your tiny furry companion is kept safe and secure as they explore their large habitat thanks to the wire spacing, which is approximately half an inch.
There is enough space for you to build hiding places, add litter pans, and include toys. Your guinea pig can take a quick nap or enjoy the view from an elevated platform. Additionally, this cage has a stand with locking wheels so you can easily move your guinea pigs around your house.
5. Living World deluxe habitat
A guinea pig feels most comfortable in a safe cave or den. Luckily, you have everything you need to keep your guinea pigs safe and secure in the Living World Deluxe Habitat.
Your guinea pig will feel protected and have plenty of fresh air and space to unwind and play because it features an upper wire frame and a plastic bottom foundation.
The cage gives you plenty of access to your piggies in addition to the side front door, thanks to the fold-up wire top that spans the entire length of the cage. The sturdy, high-sided plastic bottom tub is easy to clean and keeps bedding and excrement inside the cage – an important consideration when it comes to the ongoing care of your guinea pig.
Your guinea pigs can take naps in the small hideout and balcony with an access ramp. The cage has a small, tip-proof food dish and a small, non-drip water bottle. The balcony provides an elevated area for your pet guinea pig to survey their surroundings. A hay guard is also included to prevent anything from overflowing over the sides and keep things neat and orderly.
This cage comes with eight plastic clips that are used to attach the top wire frame to the bottom base of the cage, making assembly incredibly simple. You won't need any other tools to put this together; it will be ready to use in minutes.
How to choose the best cage for your guinea pig
There are many factors to consider when choosing the best small animal cage for your guinea pig, although you might believe it would be OK in any cage you buy.
To give the best living conditions for your guinea pigs, you should ensure that their cage satisfies a few requirements.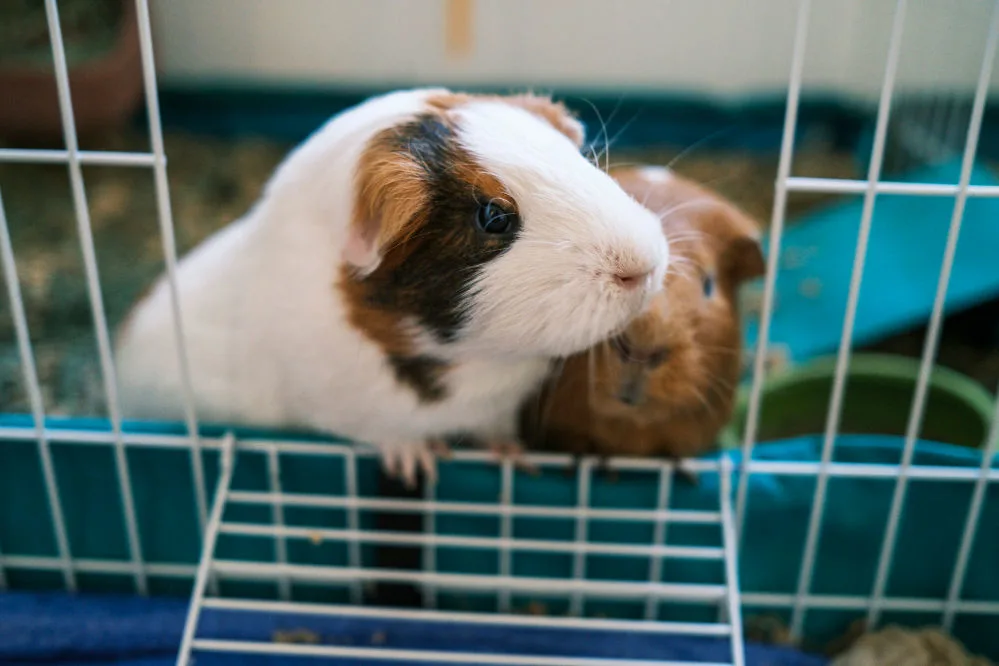 Choosing the appropriate housing for your furry pals in the sea of large guinea pig cages might be difficult, especially for rookie cavy carers. For this reason, this checklist of the top guinea pig cages will help you create the ideal piggy castle to fulfill your floofer's fantasies.
Open-top vs. closed-top cages
For various reasons, having a top on the cage is smart because some guinea pigs can jump and climb. Having a top can help you avoid any unpleasant accidents like falling out of the cage. A top guard protects against foreign objects falling into the cage and hurting your guinea pig, or allowing it to ingest or chew something it shouldn't. Closed-top cages are ideal for families with young children or other animals since they will keep your pig away from them.
Most guinea pigs can't jump or climb high enough to get out of cages with open tops, though, so they can be a safe option. These cages are also fantastic for socializing with your guinea pig. You can do many things to keep your cavy safe in an open-top enclosure, like placing the cage in an area where nothing can fall in.
Closed-top cages are a good option for families with small children or other animals since they will help ensure your pigs aren't disturbed!
Guinea pig cage size
When choosing the ideal homes for your guinea pigs, cage size is crucial. Are you aware that your pigs' mental and physical health is impacted by the size of their cage? More exercise space makes it simpler for your pigs to maintain a healthy weight. After all, they need to burn off those additional goodies. Adequate space to exercise is also crucial for a guinea pig's mental health.
Despite their small size, guinea pigs require a lot of space to explore. The Humane Society of the United States's page on guinea pig housing advises a minimum of 7.5 square feet (0.69 square meters) for one guinea pig. They recommend at least 7.5 square feet, but preferably 10.5 square feet of space (0.97 square meters) for a pair of piggies to have uninterrupted space.
The number of pigs you have, as well as their gender, will determine the ideal guinea pig cage size. Boars, or male guinea pigs, are more likely to quarrel than their female counterparts, so they might need to spend time apart at separate ends of the cage.
Materials
Various materials, including plastic, wood, powder-coated or galvanized wire bars, grids, and frames, are used to make guinea pig cages.
A question you need to ask yourself is, will the cage be simple to keep clean and free from debris, mold, and odors? If not, it will quickly collect urine, discolor, begin to smell, and eventually decompose.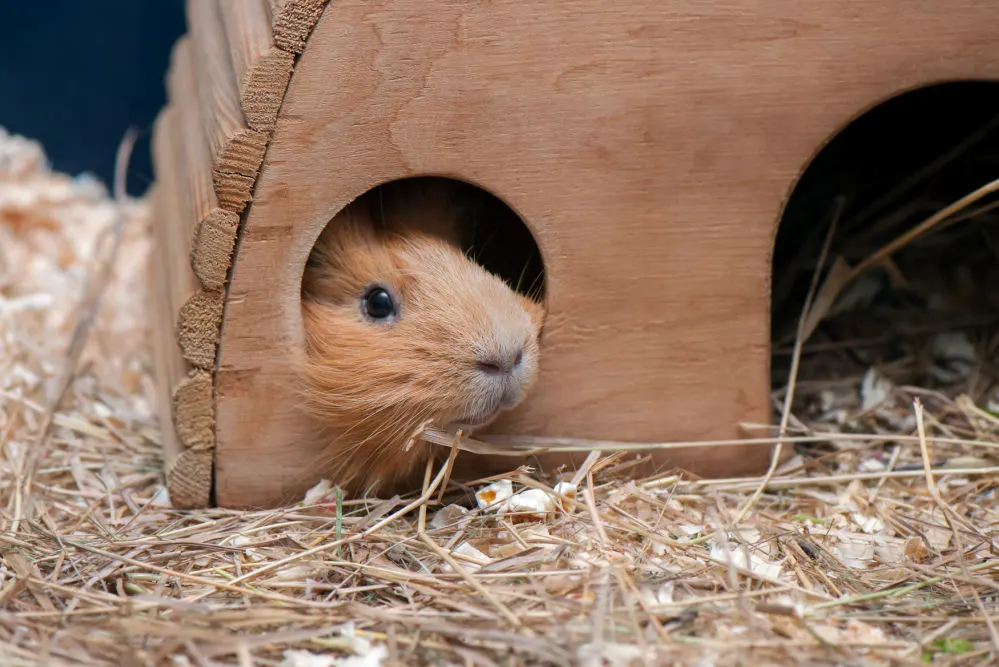 For instance, wood will need to be treated or covered with something to make it waterproof. Plastic on the other hand is non-absorbent, simple to wipe down, and hygienic.
To promote airflow, the cage's sides ought to contain wire bars. Glass tanks do not allow enough ventilation, producing a buildup of ammonia and possible respiratory difficulties.
Stability and accessibility
How easily can you access all locations to clean the cage and change the bedding? This is another question you must ask yourself when looking for an enclosure for your cavy. For comfort and convenience, look for cages that can open at the top and can open from the sides.
If you want to move your cage frequently, you should think about the cage's structure and sturdiness. Pick one with wheels if you intend to move it outside on nice days. Those with flexible frames often perform better when positioned in a corner or against a wall.
Take into account if the components maintain their shape when being raised.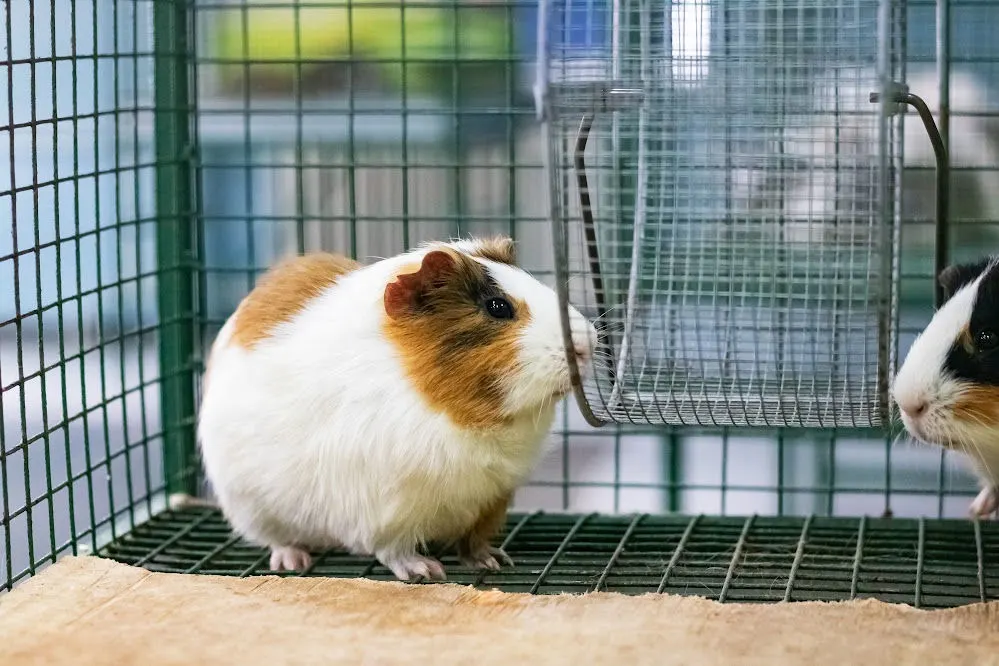 The cage floor must be sturdy and unwired. The tiny feet of guinea pigs can become entangled in wire and cause harm. Choosing the proper flooring for the large guinea pig cages is a terrific idea to maintain piggy paws in pawfect shape.
Bumblefoot (pododermatitis) is a terrible and painful condition brought on by inappropriate and unhygienic cage floors, as you are likely aware if you've heard of the term.
A solid and portable coroplast base will protect your pigs. It's also effortless to clean; a short vacuum and a wipe down with a pet-safe cleaner restore it to new condition. Coroplast is an excellent option to provide your adorable pigs' sturdy footing to walk on.
Remember to choose your bedding carefully as well. Fleece liners are reusable, easy to wash, and gentle on your pig's paws. Not only that, but they benefit the environment and your pets. No more wet bottoms for your cavies, because fleece liners soak everything up.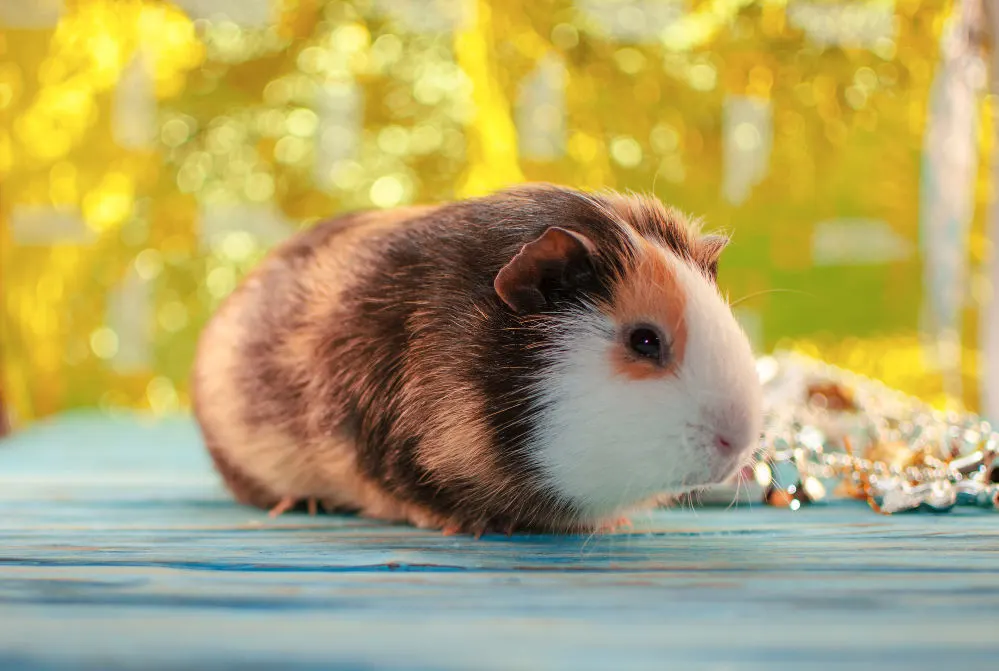 Given that guinea pigs have tiny legs that make it difficult to jump or climb, you should concentrate on providing ample horizontal space rather than vertical.
Guinea pigs struggle with heights. The cage you choose should have only one level or a second level that is only eight inches (20 cm) or less above the ground and has a ramp for easy access. The ramp should have a low inclination to allow your pigs to climb it safely.
What to put in your guinea pig's cage
Some cages have a more straightforward design that requires you to install the accessories. Others have a more complex design that includes ramps, food bowls, and water bottles.
Make sure to consider where you will put their toys, food bowls, and water bottles because your guinea pigs will need plenty of entertainment to stay amused. To ensure your pig is comfortable, ensure their cage is furnished.
Accessories
Water bottles are the best source since they reduce pollution. Food bowls should also be hefty so they cannot be easily knocked over. Bowls should have a top aperture that is equivalent to or smaller than the base of the bowl to prevent them from tipping over.
The ramp needs to be at a comfortable angle because guinea pigs have a hard time climbing If the ramp is excessively steep, they may decide not to use it.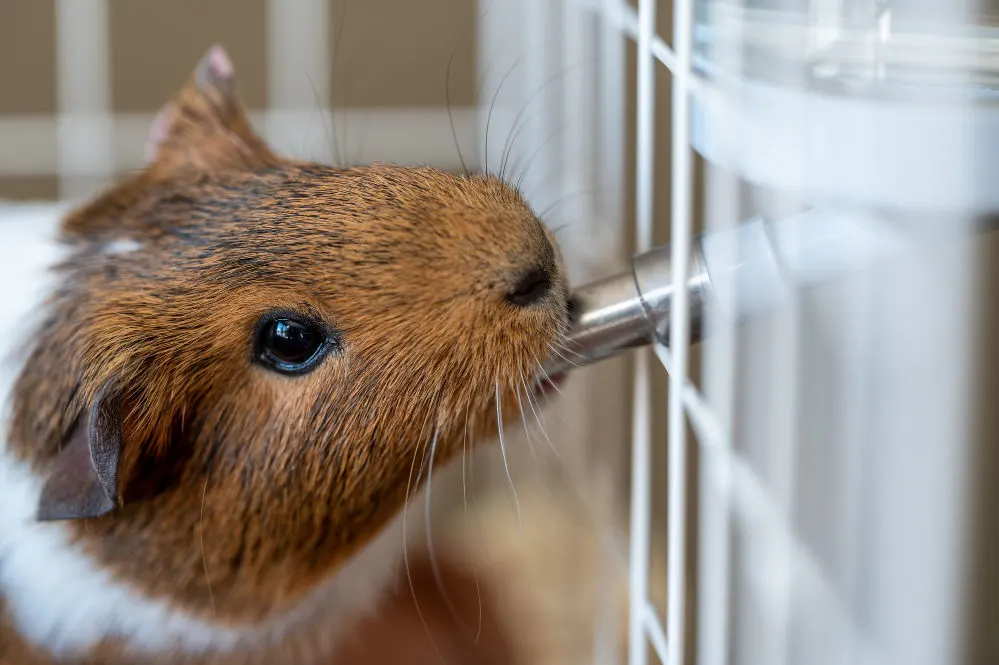 While acclimating your pigs to the higher ground, you may place their favored prizes on the ramp. As a result, they will feel more confident, and once they have ascended the ramp, they will start leaping around in no time.
Bedding
The right bedding is required for each of the large guinea pig cages. Since bedding absorbs moisture, your cute fluffs won't have wet bottoms. And since these little creatures can't dig, you'll need to make a cozy burrow where they can snuggle and feel secure.
Avoid using wood chips as they have an overpowering aroma and might irritate the sensitive feet of your guinea pigs. Use fleece liners or paper bedding to keep your guinea pigs as cozy as possible.
You can use paper fiber or pellet bedding made of paper to line the cage. Paper fiber is ideal for burrowing because it absorbs urine, manages odor, and controls both. Paper pellets, replaced every week, can be an excellent alternative.
Hiding spots
Additionally, you ought to provide your guinea pig with areas like this unicorn igloo or hammock tunnel where they can hide and relax. Add some chew toys to the cage to spoil your pig with mental activity and something to gnaw on to maintain the health of their teeth.
The best spot for your guinea pig cage
Choosing a location for your guinea pig cage is another crucial decision. To prevent your pig from getting too hot or cold, be mindful of the environment's temperature when putting up the cage.
Temperature
Although guinea pigs do not tolerate drafts and are highly susceptible to heat stroke, they are much more comfortable in colder temperatures, about mid-upper 60° Fahrenheit (15°Celsius).
You should not place the cage in direct sunlight or near heat vents. If it becomes hot here, these furry potatoes can't cool off since they can't sweat. At that point, heatstroke poses a serious risk.
Scents
You may not be aware that guinea pigs have delicate respiratory systems. This implies that they react poorly to potent scents in cleaning products, air fresheners, scented candles, and other everyday household items like Teflon. It's advisable to reserve candlelit dinners for a pig-free room if you enjoy them.
Humidity
Your piggies urge you to be aware of humidity as well. Low humidity, between 40% and 70%, is ideal for them. As a result, even though it would be entertaining to watch the pigs while brushing your teeth, there isn't a piggy palace in the bathroom. A thermometer and a hygrometer are excellent tools to monitor the temperature and humidity in their home.
Airflow
Airflow is another consideration to make when looking for the ideal pig location. The little floofs require airflow in their cage, although not as strong as drafts. Guinea pigs use the restroom constantly, and if there isn't enough fresh air, the smell might make them sick. Glass tanks and plastic cages for guinea pigs are not recommended.
Noise
Now, guinea pigs and their piggy parents have something to consider: noise levels. Since guinea pigs are active both during the day and at night, you don't want to keep one close to your bed. Otherwise, you might spend sleepless hours enduring the sound of your furry pals drinking from their water bottles.
Your adorable floofs, however, are equally sensitive to loud noises and inclined to hide when startled. The best location for your guinea pig's cage arrangement is a quiet corner of your home.
Final thoughts on the best guinea pig cages
When it comes to guinea pig cages, there is no one-size fits all. There are many possibilities for an authentic piggy palace that pleases you and your companions. Your floofy buddies have some basic needs for their guinea pig cage setup, particularly in terms of the guinea pig cage size.
We propose the cages you just saw because they satisfy your pigs' demands. Whichever one you pick, your pigs will be happier and healthier for it because you're building a cavy castle with lots of areas to zoom in.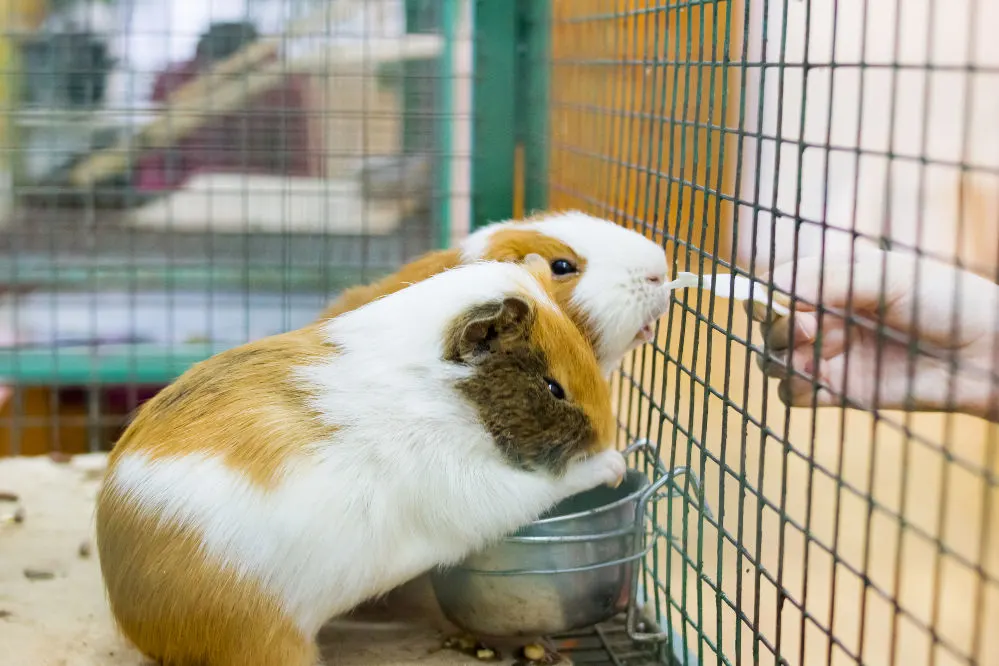 Selecting the ideal cage might be challenging, but the reward is incredible when you see your piggies popping popcorn with delight. You can enrich your new pig house by including foraging, accessories, and toys. Additionally, giving your pets daily cage-free time to explore and stretch their little legs is a real treat.
Steph Dyson is a travel journalist by trade but a lover of all small pets. She's been a pet mum to everything from gerbils to guinea pigs, rabbits to hamsters, and fish to dogs of all shapes and sizes. She wants to share her years of experience with small pets and make Small Pet Guides the go-to website for pet owners seeking information and care advice.
Fact checked by: