If you've decided to make the move from paper to fleece bedding, then you're probably on the lookout for the best way to set up your cavy's cage with fleece liners.
There are many different types of guinea pig bedding on the market, all toting themselves as the best, and many of them have similarly good reviews. So it can be hard to decide what to buy based on ratings alone.
There are a few hallmark traits of the top choices for fleece liners, though. Something cozy and comfortable is perfect for keeping your pet comfortable while still being effective at trapping liquid and keeping them dry. You also preferably want something that doesn't leak into the cage below.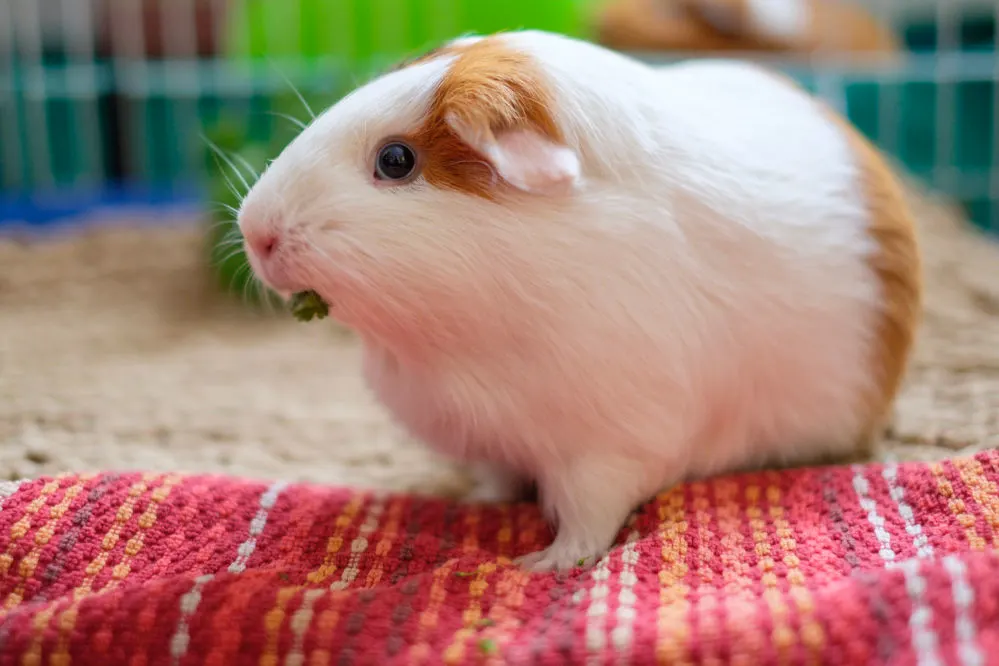 Sounds like a tall order, right? But there are some quality fleece liners out there that tick all these boxes, and here's the low-down on which ones they are.
So what is the best guinea pig fleece bedding, then? Carry on reading to find out.
Why choose fleece guinea pig cage liners?
Any cavy owner knows there is a myriad of options when it comes to bedding material for their cute critters, but a new owner might feel overwhelmed with the options available. Between paper bedding, aspen shavings, cedar shavings, and pine shavings, there seem to be a lot of easy-to-toss-and-replace types of bedding available.
So why choose fleece? The first thing is that it's hypoallergenic for your little piggy because it doesn't hold as much dust as wood shavings or paper bedding. These little guys have atendency to catch upper respiratory infections, so giving them a clean cage with a lovely fleecy surface free from dust is a great step towards better health for them.
Fleece liners are also great for the environment as they're not disposable bedding, so you don't have to throw them away every time you need to clean the cage. With proper care, fleece bedding can last years. So they end up saving you a lot of money in the long run.
Best fleece liners for guinea pig owners to buy
There are a variety of fantastic fleece options for piggy parents to spoil their cavies and make sure they have the best (and most comfortable) lives. Here are some of the best fleece liners you can buy for your furry friend.
1. GuineaDad fleece liner
The GuineaDad fleece liners are honestly one of the perfect spoils for your piggy. They have a patented pocket of coziness for your pet to burrow into — every guinea pig owner knows how much these little guys love to burrow. The top layer is a soft, quilted moisture-wicking fleece layer, perfect for keeping little piggy feet dry and for spot-cleaning.
The next layer is a considerable amount of absorbent bamboo blend material. The bamboo is a big plus as it is antibacterial and odor resistant to boot, so it's pleasant for you and will stop any bacterial growth – making it a great choice for your guinea pig's health, too.
The bottom layer is a waterproof one, preventing any moisture that escapes the bamboo layer from seeping to the bottom of the cage and leaving unhealthy wet patches. The GuineaDad liners come in several sizes to fit your guinea pig's cage dimensions, plus it's easy to simply buy an extra two by two to cover any surplus floor space that's still showing.
They work especially well in C&C cages because they're designed to fit them precisely. Not only that, but GuineaDad liners come in a variety of elegant colors to choose from to match the aesthetic of your cage and room.
2. YUEPET waterproof fleece liners
YUEPET waterproof fleece liners are a fun, colorful choice to deck out your guinea's cage with. They feature a cute paw print design that comes in three colors, namely white, pink, and coffee. The pink one is especially perfect for your girl cavies.
The liners feature a soft textured coral fleece on the top layer that's gentle on little feet. The middle layer is the waterproof one, catching any liquids and preventing them from passing through to the bottom of the cage. The last layer is another plush layer of comfort for your small pets, so this liner is reversible if you prefer the dark gray of the underside over the colorful top layer.
It's fairly small at only 16 inches (40 cm) by 23 inches (60 cm), but you can buy three at a time in the value pack. Plus they're a good option for travel, or simply tossing on the couch or floor for your cavies to romp around on without worrying over wet stains on your furniture.
3. Small Pets & Company cage liners
These Small Pets & Company cage liners will comfortably fit your guinea pig's cage and then some. They're purposefully designed to be slightly larger than average cage sizes so that they climb up the sides slightly to ensure complete protection from messes.
The larger size also allows for shrinkage during washing, so you won't end up with bald spots on your cage floor after a few machine washes. Their design has a triple-layer feature with luxury fleece that is soft, warm, and comfortable on the top and bottom. The middle layer is a superbly absorbent one to catch any wetness and prevent it from soaking through.
The odor control is impressive, too — no smelly bedding here. And the moody design of feathers against a black background is quite boho-chic. This liner is considerably larger, and comes in two sizes.
It comfortably fits a Midwest cage size that is 24 inches (61 cm) by 48 inches (122 cm) or a smaller C&C 1X2 cage at 14 inches (35.5 cm) by 28 inches (71 cm). These washable fleece liners will be a few inches bigger than the cage sizes, but that's what makes them so popular.
Top Tip: These cage liners are perfect for indoor rabbits as well if you have any or are planning to add them to your furry family.
4. Newwiee microfiber coral fleece liners
Coral fleece is nice and absorbent, so these Newwiee Microfiber Coral Fleece liners are a budget-effective way to keep your furry family snuggly and protect their paws. Coral fleece is sturdy and reusable while still being soft, and it doesn't break or fade easily, so it can endure many washes, making this up there with the best types of guinea pig bedding.
The fabric also dries fast and is breathable, so your pet's feet won't be wallowing in wet fleece. However, there is no absorbent or waterproof layer to exclude any liquid from coming out. So extra precautions would have to be taken, such as putting down an absorbent layer of newspaper or puppy pads on the cage bottom to prevent any accidental pooling.
This bulk pack is great if you need a cost-effective solution to keeping your piggy's feet off of the cage floor and providing them with a nice place to cuddle into. The colors are plain but pretty and come in multiple shades. While the liners come in three different sizes for different pets, the 13.8 inch (35 cm) by 29.5 inch (75 cm) sized liner is perfect for piggies.
5. JDMOLG fleece cage liners
With edges that rise up the sides of the cage, these JDMOLG fleece cage liners help keep your cage clutter contained by preventing hay or droppings from falling out the sides. The corners even have some extra absorbent protection, as any piggy parent knows guinea pigs love to mess there especially.
It's an easy setup with buttons to keep the sides from falling in and an aesthetic gray fleece with a purple bottom. The best part? It has a whopping five layers of protection. First, a soft, quick-drying quilted layer, then polar fleece, two layers of absorbent and sanitary bamboo, and lastly, a layer of waterproof polyester.
Don't be fooled, because as technical as it sounds; these liners are ultra soft and warm for little furry friends to scramble over and snuggle into. The fairly flat surface makes it very easy to clean as well in terms of spot-cleaning and being machine washable. It comes in sizes that fit a C&C 2X3 and 2X4 cage, as well as a Midwest.
As a bonus, it even comes with a handy little pouch for your fluffies to burrow into and hide away while they snooze.
How to clean your fleece liners
Fleece liners are very environmentally friendly because they can be used again without having to be thrown away. They can last a long time, even years, if proper care is taken of them, and that includes the correct way of cleaning them.
They're also very easy to clean, even though it may feel like a bit of extra work than simply throwing out smelly paper bedding and replacing it with some fresh paper.
This first step is to clean off all guinea pig poop that you may see on the liner. If you haven't been spot-cleaning through the week (which you should to prevent piggy health issues from arising), it might take a bit longer than if you had cleaned here and there. Once the poop is gone, give the liners a good shake to get rid of any loose cavy hairs and bits of hay.
Now your liner should be ready for the wash. If you have a laundry bag on hand, use that in case any hairs get left behind and throw it in the washing machine on a cold wash. Do not use a fabric softener, as they can carry scents that may irritate your piggy's sensitive respiratory system, potentially causinghealth issues.
Once washed, dry the liner on low heat or simply hang it outside if the weather is good enough. Try to avoid direct sun as this always makes fabric deteriorate faster. You can use white vinegar if necessary to neutralize any smelly spots you might notice, or just include it in your overall wash for a thorough clean.
Top factors to consider before you buy a fleece liner
Now that you have some options on fleece liners, there are a couple of factors to consider before you choose which one is best for you. Some are more cost-effective, and some are more design-driven with a higher price tag attached. Here are some of the questions to ask yourself before you make your final decision.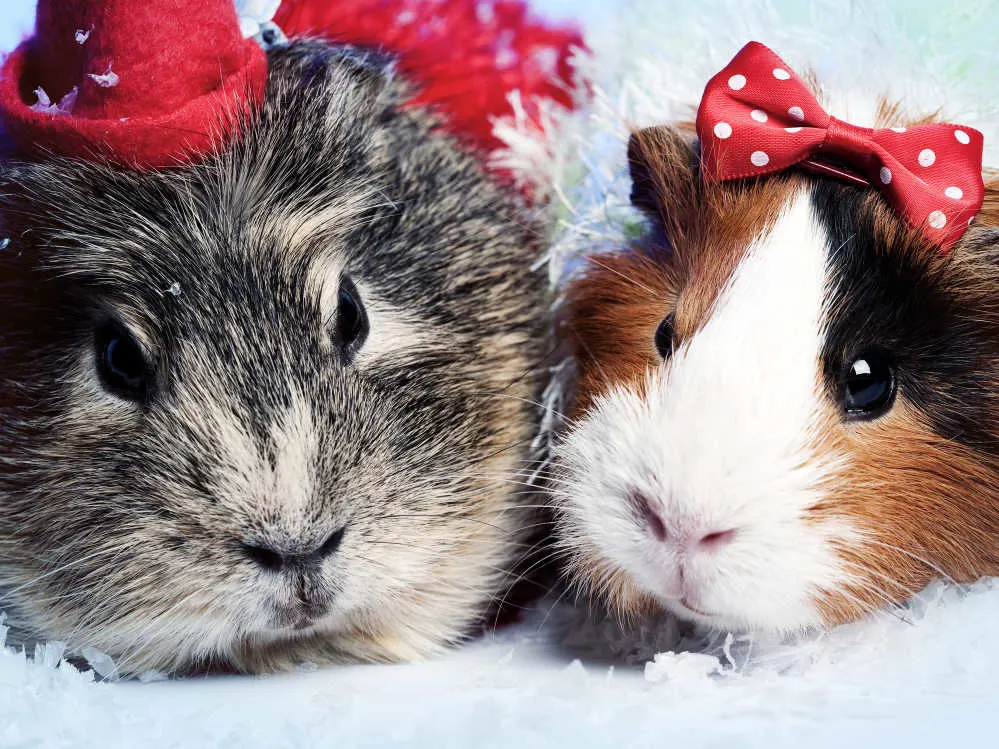 What kind of fleece is it made from?
There are different types of fleece that liners can be made from. Some might be made from a fleece that is not suitable for guinea pig fleece cage liners because it doesn't have moisture-wicking properties.
Moisture-wicking fleece is typically more expensive, so cheaper fleece usually stays wet for longer. Coral fleece is a popular choice thanks to its absorbent properties, but this can become a problem if you aren't on the ball with your cleaning schedule.
If you don't wash more frequently to ensure the liner remains clean and dry, this can lead to your little friend running around with wet feet in unsanitary conditions. Sadly, this could result in potential bacterial infections like bumblefoot.
More expensive, higher-quality fleece types are usually anti-pill as well. This means that they won't end up with little balls of fabric on them following a few washes. Instead, they will stay smooth and nice so that they won't snag your guinea pig's toenails, potentially tearing them.
Cheaper fleeces can also lose their absorbency over a shorter period of time, meaning you'll have to replace the liners on a more regular basis than if you make sure you're getting a quality fleece.
Does the liner have a waterproof or absorbent layer?
Some fleece liners are just fleece alone. This isn't ideal, even if it is moisture-wicking fleece, as something needs to hold the wetness and contain it.
If the fleece liner you choose doesn't have a waterproof or absorbent layer, then you'll need to add something underneath the liner to absorb whatever comes through it. Newspapers can do a good enough job, though it isn't perfect as it remains wet and can get smelly quickly.
Puppy pads are also often used by piggy owners underneath fleece liners that leak to catch the urine, but these can also remain soggy for a time. So, even though they have better odor control, it's not an ideal setup, and those puppy pads can get pricey. Plus, they're not environmentally friendly at all.
Liners that only have either a waterproof or absorbent layer are much better options, but be warned that they have the potential to leak. This is because absorbent layers can allow some urine through, especially when they're getting full. And waterproof layers trap pools of urine between the waterproof lining and the fleece above them, with nothing to prevent spillage.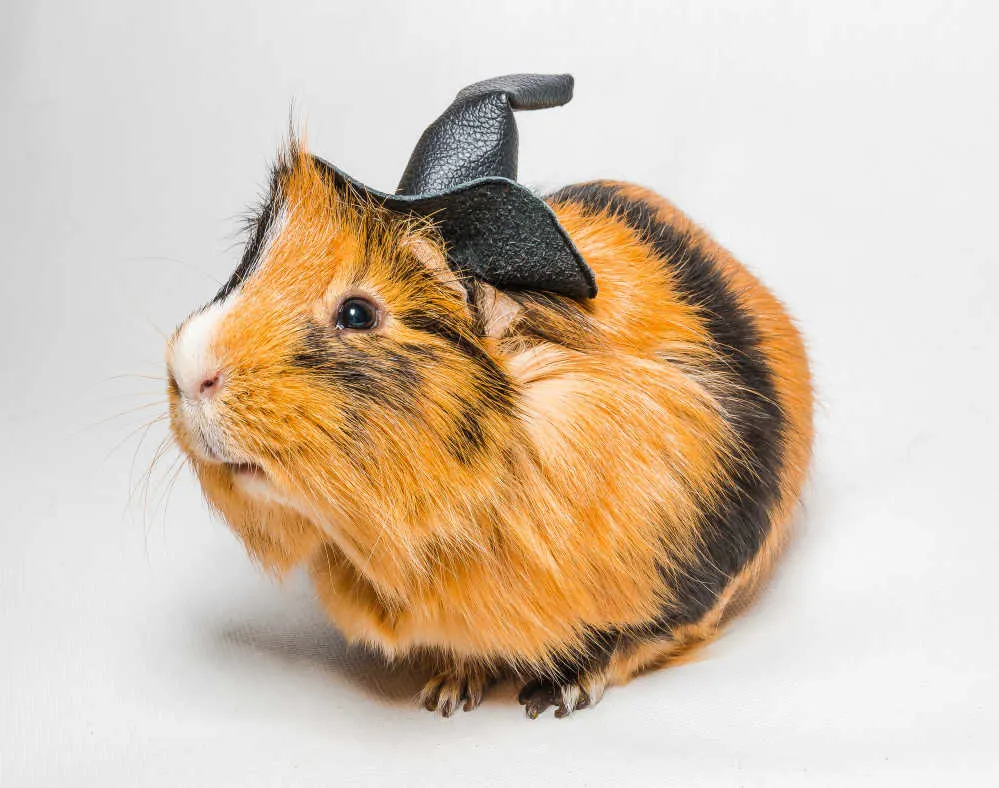 The bottom line is a combination of absorbent and waterproof layers in the same fleece liner is the best option for ultimate cleanliness.
Is the fleece easy to clean?
No one needs extra hassles in their daily lives, and seeing as you need to clean liners every four days or so, it's better to choose a liner that is quick and easy to clean.
Fleece types with longer strands might seem more cozy, but they can be harder to shake off hair. Piggy poop might be more difficult to see, too, and could even get caught up in the strands of the fleece.
A soft, short, or quilted fleece liner is the easiest to clean while still being ultra comfortable for your critters.
How many fleece liners do I need?
Buying one just isn't enough. This is because while your single fleece liner is being washed and dried, your piggy's cage is left unprotected. Not only that, but they may hurt their little feet on the cage bottom without any soft material to cover it.
It's recommended that you have at least three liners that fit the entire floor of your cage, so you always have a fresh one on hand to put straight into the cage on washing day.
How much do fleece liners cost?
This can vary depending on size, material, and even brand. It's possible to get some bargains on fleece liners for your small animals, but remember that not all fleece liners are created equally.
They can cost less than $20, but the better quality ones tend to sit around the $40-$50 mark. When deciding on which liner to choose, remember that what may save you some money in the short run can lead to expensive vet bills in the future due to poor design or fabric quality.
Fleece that doesn't dry quickly or properly can leave your fur baby prone to wet feet and, therefore, bacterial infections. Wetness in the cage can also come from inadequate absorbent layers that don't do their job effectively, allowing leakage to the bottom of the cage or back into the fleece.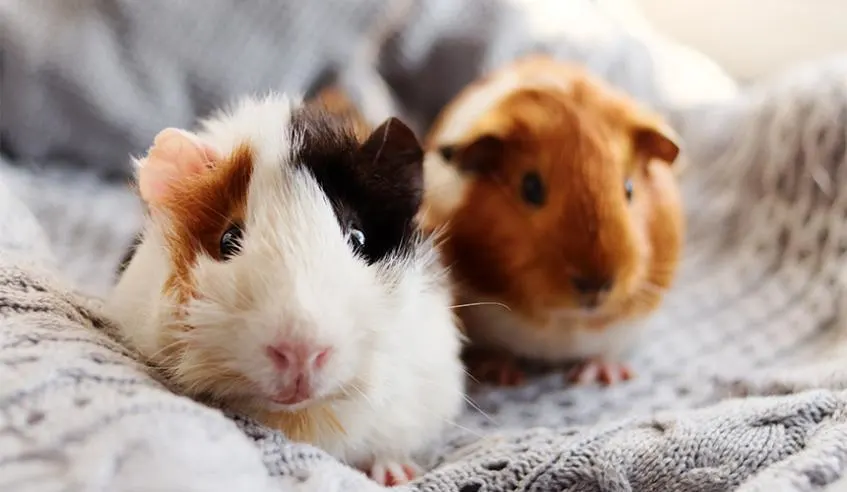 Wrap up on the best guinea pig fleece bedding
And there you have it, some of the best fleece liners money can buy. They may have different features in some cases, but overall they're the best liners that cater to a range of budgets. Above all, when considering which one to buy, take your cavy's comfort and health into account.
They'll be spending a decent portion of their lives in this bedding, so make sure you choose one that not only suits your lifestyle but theirs as well. If you have two cavies, you might need to invest in more liners than you thought to accommodate a larger cage size. But you can't put a price on your pet's comfort, can you?
Steph Dyson is a travel journalist by trade but a lover of all small pets. She's been a pet mum to everything from gerbils to guinea pigs, rabbits to hamsters, and fish to dogs of all shapes and sizes. She wants to share her years of experience with small pets and make Small Pet Guides the go-to website for pet owners seeking information and care advice.
Fact checked by: